Back in July..many moons ago my friend Jen,Cara and I went to Cobourg's sidewalk sale. To my utter surprise and delight I found an Antiques Shop called Day's Gone Buy. I had purchased three things before I even went inside the door! Once inside we quickly realized why the prices were so amazingly low,they were closing. We met the owner and had a long chat about the industry and how it changes trends so quickly. She opened ten years ago with Antiques but has been making jewelery for the past 5 years and is now going to be a wholesaler to five retail stores (so far) She found her niche and has been very successful. We took a truck load home that day and had to return the next day for another load!
She laughed when I told her we'd just found her,and that she couldn't close..she said "where've ya been for ten years" it's so true we go to Cobourg alot between the Bible Camp,Jakes second location,and of course the beach..but this was our first time in her shop...better late than never I guess.
This is a bed that she'd had in the back of her shop to paint for over 5 years and hadn't got around to it...I picked it up,and painted it last week in the heat wave.I intended to use it in my youngest daughter Cara's bedroom,but she had other plans. She's been lucky to have had her sister's queen size bed to use for the past year, as Jaclyn was away at college but this year Jac got a bigger place and we took her bed to Toronto last weekend.
Cara decided she'd rather have a double bed just on a metal frame,she likes the minimalist look in her room and is super organized,IKEA is her favourite store. This means the bed will come back downtown and will be for sale soon in our shop.
this is the before,I love the medallion on the headboard
after the first coat


first coat on the foot board
I am linking this to
Coastal Charm
she has a party going on..check it out!!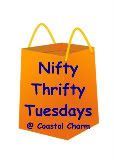 One more sleep!!
..
U
Natalie